---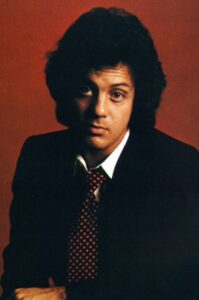 William Joseph Martin Joel nasce il 9 maggio 1949 a New York, e precisamente nel Bronx, da una famiglia della classe operaia. A quattro anni il padre Howard, un emigrante ebreo sopravvissuto al campo di concentramento di Dachau che, smessa la tuta della General Motors, si diletta la sera ad accompagnare una piccola compagnia locale di rivista, fa scoprire al piccolo Billy la musica classica.
Ben presto la famiglia si sposta a Levittown, una zona residenziale di Long Island. Il divorzio dei genitori, combinato con l'alienante vita dei sobborghi, lo allontanano dalla retta via, anche musicalmente. Da una lato incomincia a frequentare le gang del quartiere e a praticare il pugilato; dall'altro, influenzato soprattutto dai Beatles, getta alle ortiche dieci anni di studi classici per fondare il suo primo gruppo, gli Echoes.
A corto di soldi, inizia a suonare la sera in piccoli locali, cosa che ben presto si riflette sui risultati scolastici. Neppure la sua promettente carriera da pugile va meglio: dopo 22 vittorie consecutive da peso welter, due knock-out consecutivi lo persuadono ad appendere i guantoni al chiodo, regalandogli il profilo oggi ben noto.
Sciolti gli Echoes, si aggrega nel 1967 a un gruppo professionista, gli Hassles. Il gruppo non sfonda e Billy, assieme al batterista Jon Small, va a costituire il duo heavy metal degli Attila. In questo periodo registra complessivamente tre album: ben poco si sa su queste prime incisioni se non che il piano di Billy gronda rabbia, disperazione e sudore in melodie rock di pasta molto dura. Sentimenti e suoni che ben rispecchiano un periodo fatto di privazioni e delusioni e che si concluderà con lo scioglimento degli Attila a causa di una storia tra Billy e la moglie di Small, e con una forte forma di depressione che culminerà in un tentativo di suicidio.
L'ascesa al gotha della musica la deve tutta a un solo album, "The Stranger", con il quale nel 1977 scala la top ten fino al 2° posto, e piazza quattro singoli nella top 40. Ai Grammy del 1979 vince nelle categorie di Miglior Album e Miglior Canzone (con "Just the Way You Are"). L'LP venderà sette milioni di copie nei vent'anni successivi. Due milioni di copie è il bottino del successivo "" (1978), che si conferma come migliore album ai Grammy del 1980. I singoli "My Life," "Big Shot," e, soprattutto, "Honesty" fanno furore. Il successivo "Glass Houses", sorta di risposta di Joel ai movimenti punk e new wave, rimane in cima alla top ten per 7 settimane nell'estate del 1980, e piazza la hit "It's Still Rock'n'Roll To Me" al 1° posto della single chart.
Gli Anni Ottanta non iniziano nel migliore dei modi: tra la pubblicazione dell'album live "Songs in the Attic" (1981) e il successivo "The Nylon Courtain", Joel colleziona un pauroso incidente in moto e un divorzio. "The Nylon Courtain" (1982) è un concept album sulla sua generazione (quella dei baby boomers, come convenzionalmente vengono chiamate le persone nate tra il 1946 e il 1964) ed è anche un tentativo per farsi apprezzare come autore anche dalla critica. In effetti riesce nell'intento, ma i fan rimangono freddini. Con il frizzante "Innocent Man" (1983), sorta di tributo alla futura moglie Christie Brinkley, torna a scalare la top ten con molti dei suoi brani, raggiungendo la vetta con "Tell Her About It". Insieme alla bellissima ex topmodel Brinkley (che sposerà nel 1985) è protagonista del video girato per quest'utlimo bran, e sarà la prima star degli anni Settanta a girare video per MTV. Billy Joel è uno degli entertainer più apprezzati al mondo. Il suo virtuosismo al piano, le sue leggendarie performance dal vivo e, soprattutto, le sue raffinate melodie, da "Honesty" a "Piano Man" e "New York State of Mind", gli hanno permesso di varcare le porte della Rock & Roll Hall of Fame con un 'bottino' di oltre 100 milioni di dischi venduti e 5 Grammy Award.
---
Reader's opinions
---