---
CHER ~ Eternamente lei~
Written by Angelo Moscara on February 11, 2023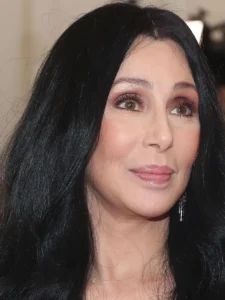 All'anagrafe il vero nome è Cherilyn Sarkisian La Pierre, è nata a El Centro, in California, nel 1946. Cresce accanto alla madre attrice, Georgia Holt, e al padre John Sarkisian. Ancora teenager, incontra Sonny Bono in un bar in una via di Hollywood ed è insieme a lui che un giorno si reca ai Gold Star Studios di Phil Spector e inaspettatamente si trova a sostituire una corista che non si era presentata.
Da questo momento in poi, Cher canta come corista con Phil Spector in tutti i classici di quest'ultimo, da "Be My Baby" a "You've Lost That Loving Feeling", e registra alcuni duetti con Sonny. Nel 1969 nasce Chastity Bono, e Cher e Sonny si sposano. Insieme a Sonny, Cher forma il primo duetto Caesar and Cleo, il cui debutto è modesto e incerto. Ma dopo essersi rinominati Sonny e Cher i due registrano nel 1965 alcuni successi, tra cui "I Got You Babe". Ben cinque canzoni di Sonny e Cher si posizionano contemporaneamente nelle top 20 americane, fenomeno, questo, accaduto nella storia solo con i Beatles e Elvis Presley.
La crescente popolarità porta Sonny e Cher a comparire in televisione nello show "The Sonny and Cher comedy hour", che viene messo in onda per la prima volta dalla Cbs nel 1971. Nel 1975 la coppia divorzia. Cher si sposa con la rockstar Greg Allman, e nel 1976 nasce Elijah Blue; poco dopo il matrimonio va a monte per gli enormi problemi di Allman, alcolizzato e tossicodipendente.
Cher si trasferisce a New York e inizia la carriera di attrice, dando presto prova del suo talento. Riceve la nomination per un Academy Award come miglior attrice non protagonista per il film "Silkwood" e nel 1983 vince un Golden Globe per la stessa interpretazione. Al Festival del Cinema di Cannes del 1985 riceve il premio come miglior attrice per "Mask", due anni dopo è la protagonista in "Le streghe di Eastwick" e "Stregata dalla luna", per il quale vince il Golden Globe e l'Oscar come miglior attrice. Nello stesso anno Cher ritorna alle sue origini di cantante con il singolo di successo "I Found Someone".
Nel 1989 esce HEART OF STONE, mentre il singolo "The Shoop Shoop Song" (1990), tratto dal film "Mermaids", si posiziona in vetta alle classifiche del Regno Unito. Grande successo hanno anche gli album LOVE HURTS e GREATEST HITS, del 1991. Nel 1995 esce IT'S A MAN'S WORLD, e subito dopo Cher debutta in qualità di regista in "If these walls could talk", mentre è interprete di "Un té con Mussolini", per la regia di Franco Zeffirelli, nel 1998. Nello stesso anno Sonny Bono, cui Cher è rimasta molto legata, muore in un incidente sulle piste da sci. Il riuscitissimo album BELIEVE è dedicato a lui, è contiene i grandi successi "Strong enough" e "Dov'è l'amore". Nel 2001 esce un altro album di inediti, LIVING PROOF.
Nell'aprile 2003 esce THE VERY BEST OF CHER, una raccolta di tutti i più grandi successi dell'intera carriera di Cher. Più tardi viene pubblicato LIVE: THE FAREWELL TOUR, che riprende il concerto all'American Airlines Arena di Miami mandato in onda sulla NBC. L'anno successivo Cher realizza THE VERY BEST OF CHER, che diventa multi platino, a cui fa seguito GOLD un altro greatest hits con molti brani cantati in coppia con Sonny. Dal 6 maggio 2008, Cher è impegnata in uno show di circa duecento date al Caesars Palace di Las Vegas. È in lavorazione il suo nuovo album atteso per novembre 2008.Cher è il simbolo della cultura pop internazionale, con oltre 100 milioni di dischi venduti nel mondo.
---
Reader's opinions
---