---
Love Unlimited Orchestra ~Woman Soul Funky~
Written by Angelo Moscara on February 26, 2023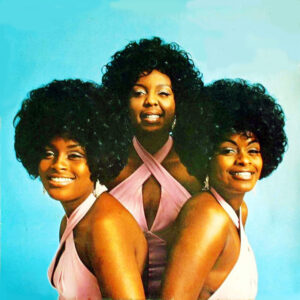 La mente geniale di Barry White non può che conoscere un collaboratore tale, infatti nel 1972 conosce l'arrangiatore Gene Page, che collaborerà nelle sue più importanti produzioni e la vocalist Glodean James (sua futura moglie) con cui crea il terzetto delle Love Unlimited (insieme a Diana Taylor e Linda James): debuttano con l'album "From a Girl's Point of View We Give to You".
Nel 1973 il primo grande colpo con la Love Unlimited Orchestra: il singolo è "Love's Theme", inciso in versione vocale dalle Love Unlimited alcuni mesi prima, ma ristampato in versione strumentale dopo le continue richieste dei DJ's: 3 milioni di copie vendute solo negli USA. La lista di musicisti che vi albergheranno nel corso degli anni è di altissimo livello: Ray Parker Jr. (poi con i Raydio, autore con Barry di "You See the Trouble With Me"), Nathan East, Wah Wah Watson (proprio lui…Johnny Guitar), David T. Walker, Dean Parks, Don Peake, Wilton Felder dei Crusaders, Lee Ritenour, Ed Greene, Gary Coleman etc. Siamo sempre nel 73, il Maestro ancora non si espone, ma un provino contentente tre brani da lui cantati, preparati per un vocalist maschile, finisce tra le mani di Larry Nunes della 20th Century Records che lo convince faticosamente ad incidere in suo primo disco. "White Heat," lo chiamò Barry ma in stampa uscì col titolò di "I've Got So Much to Give", l'album che conteneva il suo primo singolo ufficiale : " I'm Gonna Love You Just a Little More Baby". Testi pieni di seduzione, "narrati" con voce bassisima su eleganti e lunghi arrangiamenti orchestrali, sostenuti da una forte base ritmica e da ariose melodie avevano creato una nuova e micidiale mistura: era più che Soul o R&B, qualcuno la definì "Sophistisoul" ma era semplicemente nata la Disco Music!
Quello che successe negli anni successivi è noto a tutti: il Maestro è stato l'indiscusso re di un genere che ha dominato con classe e maestria con le innumerevoli produzioni. In prima persona: "Never, Never Gonna Give You Up" (1973), "Can't Get Enough For Your Love Babe" e "You're The First The Last My Everything" (1974), "What Am I Gonna Do With You" (1975), Just the Way You Are" (il brano di Billy Joel, 1979) tra i numeri 1; con le sue coriste, le Love Unlimited: "I Belong to You" (1973), " It May Be Winter Outside " (1974), "I Did It For Love" e "I Can't Let Him Down" (1977), High Steppin' Hip Dressin' Fella" (1979) e infine con Love Unlimited Orchestra: "Love's Theme" (1973), "Satin Soul "(1974), " My Sweet Summer Suite"(1977) e "Theme From King Kong" (1977). Barry White è stato uno dei pochi artisti sopravvissuti alla fine della Disco; discograficamente, pur essendo attivo fino ad oggi, anche con rinomate collaborazioni come Chaka Khan, Lisa Stansfield, Puff Daddy, Tina Turner, non ha più ripetuto i successi degli anni 70, (anche se alla fine degli anni 80 ha vinto un Grammy per la sua partecipazione ad un singolo di Quincy Jones), ma le sue esibizioni sono richiestissime e, come lui stesso ha ammesso, ha sempre preferito le session live a quelle da studio. Nella sua lunga carriera ha ricevuto 20 dischi d'oro e 10 dischi di platino per i singoli, 106 dischi d'oro e 41 di platino per gli albums, vendendo complessivamente oltre 100 milioni di dischi.
---
Reader's opinions
---