---
Brit Pop con Spandau Ballet
Written by Angelo Moscara on November 14, 2021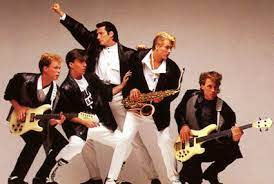 Gli Spandau Ballet sono un famoso gruppo musicale britannico degli anni ottanta. La formazione originaria e mai cambiata, è composta da cinque elementi (più uno):
i fratelli Gary e Martin Kemp (il primo, autore di quasi tutti i brani della band, nonché loro chitarrista, si è successivamente avviato a una carriera di attore, comparendo nel noto film The Bodyguard-La guardia del corpo, al fianco della cantante Whitney Houston, anche lei al suo debutto cinematografico, e l'attore professionista Kevin Costner);
il secondo, bassista del gruppo, si è poi anche lui dato al cinema, con minore successo e parti, più o meno importanti, in film per lo più di serie B o scabrosi, costruiti proprio attorno alla sua indubbia avvenenza fisica giovanile), il sassofonista e percussionista Steve Norman,
il cantante Tony Hadley, che dopo lo scioglimento del gruppo ha intrapreso una non troppo brillante carriera solista, assieme al batterista John Keeble, quinto membro ufficiale della band, e al tastierista Toby Chapman, sesto membro ufficioso degli Spandau Ballet, con loro in tutti i dischi come turnista fisso, ma mai nel quintetto-base (il primo album del trio Hadley/Keeble/Chapman, intitolato "The State of Play", accreditato al solo Tony, ma composto e suonato da tutti e tre, con altri collaboratori, sia per la stesura dei testi che per la realizzazione delle musiche, è stato pubblicato per l'etichetta EMI, nel 1992; in seguito, uscirà un secondo album di cover).
Inizialmente ispirati da un misto di funk e synthpop, il gruppo New Romantic degli Spands (così erano conosciuti in breve dai loro numerosi fans, mentre in Italia si preferiva semplicemente l'elemento germanofono del nome, Spandau) maturò infine uno stile molto elegante e raffinato, principalmente pop, con venature leggermente rock a tratti, e spiccatamente soul nelle melodie vocali e nell'uso del sax.
Come i loro rivali Duran Duran (dal sound decisamente più commerciale, nonché più duro) hanno 'spaccato l'America', pur se brevemente, e soprattutto l'Italia, la quale, oltre che conquistata dai due gruppi inglesi, fu, per un periodo, letteralmente divisa, soprattutto per quanto riguarda l'agguerrito e caloroso pubblico femminile, tra «duraniane» e «spandauballettiane» (o «spandies», dall'originale termine utilizzato in Gran Bretagna), che hanno rappresentato quasi due scuole di pensiero, completamente opposte.
Partiti come gruppo "New Romantic" col tempo maturarono musicalmente e nel 1983 uscì l'album "True" caratterizzato da un sound più adulto e contemporaneo, prodotto dal duo Jolley & Swain, formato da Tony Swain e Steve Jolley – che divennero per un paio d'anni i produttori inglesi più famosi del mondo, portando al successo gli Imagination, le Bananarama e Alison Moyet.
Anche il look cambiò — gli abiti multi-strato e il trucco del movimento New Romantic che avevano aiutato a sfondare furono rimpiazzati da vestiti eleganti, ispirati agli anni quaranta, e da facce pulite. Fu a questo punto che Steve Norman divenne il sassofonista del gruppo; non a caso, il brano True è diventato celebre anche per l'assolo di Sax che ne costituisce il middle. L'album raggiunse la vette delle classifiche in tutto il mondo, lanciando diversi singoli di successo internazionali, i più famosi dei quali furono "Gold" e la citata title Truck "True", che fu numero 1(uno) in molti paesi.
Il quarto album, "Parade" (giugno 1984) e i suoi singoli furono nuovamente dei successi nelle classifiche di Europa, Australia e Canada (oltre che in Italia, dove ha inizio in questo periodo la rivalità con i Duran Duran, comporta ai due opposti schieramenti dei relativi fan) e il brano di apertura, "Only When You Leave" (poi diventato anche la prima sigla della rubrica cinematografica Mediaset Ciak News dal 1992 al 1996), divenne la loro ultima hit Statunitense.
Alla fine del 1984, il gruppo partecipò al singolo di beneficenza con la Band Aid, Do They Know It's Christmas, con Tony Hadley che ebbe un ruolo principale tra i cantanti, vicino a colleghi illustri quali George Michael e Simon Le Bon, Bono Vox etc.
---
Reader's opinions
---