---
Stevie Wonder The King of Soul
Written by Angelo Moscara on December 24, 2021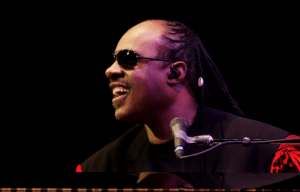 Stevland Morris (vero nome e cognome di Stevie Wonder) è il terzo di tre fratelli. La sua famiglia si trasferisce a Detroit quando Stevie ha 3 anni, essendo cieco dalla nascita, Stevie non si considera handicappato e gioca, corre in bicicletta e si arrampica sugli alberi come gli altri bambini.
Nel 1961 Ronnie White, dei Miracles, presenta il piccolo Stevie a Berry Gordy della Motown. Gordy gli fa firmare subito un contratto e cambia il suo nome in Little Stevie Wonder. All'inizio è una novità: un ragazzo cieco che suona i bongo e l'armonica con un talento feroce, dotato di una recettività tale da estasiare i direttori della Motown. La sua carriera prende il via con un disco intitolato Fingertips II registrato dal vivo al Regal Theatre di Chicago alla fine del 1962.
E Little Stevie Wonder diventa il primo artista a raggiungere il primo posto in classifica con un disco dal vivo, nonché ad avere sia un singolo che un album (Recorded Live-The 12-years-Old Genius) al N.1 allo stesso tempo. Ma Stevie non rimane Little a lungo. Il singolo Uptight (everything is alright) ispirato da Satisfaction dei Rolling Stones, è il suo primo successo d'autore e spalanca le porte a una carriera destinata ad essere prolifica.
Durante gli anni sessanta seguono altri singoli di grande successo, come gli indimenticabili I Was Made To Love Her, My Cherie Amour, For Once In My Life. All'età di ventuno anni Stevie comincia ad assumere il controllo creativo della sua musica: produce e fa gli arrangiamenti dei suoi album oltre a cantare e suonare tutti gli strumenti. Gli album che segnano l'inizio di questo periodo più maturo della sua carriera sono Signed Sealed Delivered e Where I'm Coming From (1971) ma è Music Of My Mind, un progetto tutto suo, che riscuote un grande successo di pubblico non solo Black ma anche Rock. Nel 1972 partecipa alla tournée dei Rolling Stones come supporter. Esce l'album Talking Book dal quale vengono tratti due bellissimi singoli di successo: Superstition e You Are the Sunshine of My Life.
Nell'agosto 1973, al momento della pubblicazione di Innervision, la sua popolarità è ormai inarrestabile. Stevie produce anche album di altri artisti e si dimostra grande compositore di colonne sonore: The women in red (La signora in rosso, 1984), con la quale vince un Oscar per la canzone I Just Called To Say I Love You e Jungle Fever per il film di Spike Lee. I riconoscimenti a questo artista stimatissimo continuano, e l'American Music Awards gli consegna un premio alla carriera.
Ma c'è anche l'impegno politico dell'artista, tra le altre cose grande oppositore dell'Apartheid: ritira l'Oscar per La signora in rosso a nome di Nelson Mandela e di conseguenza la sua musica è bandita in Sud Africa. Donare il suo tempo e il suo talento a cause meritevoli è sempre stata una parte importante della vita di Stevie. Il 13 marzo 1995 viene pubblicato l'album Coversation Peace: una conversazione per la pace; tredici brani che la dicono lunga su questo artista di fama internazionale, compositore, produttore e umanitario che si definisce, soprattutto, padre: di Aisha, Keita e Mumtaz.
---
Reader's opinions
---