---
Thompson Twins "The originals "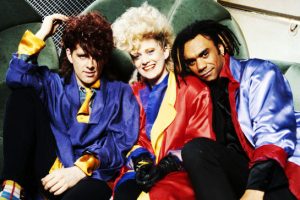 Il primo nucleo dei Thompson Twins vede la luce già nel 1977 nel natìo Yorkshire di Tom Bailey, che da vita con tre sodali ad una formazione power pop nella quale crede tanto da tentare la fortuna a Londra. I primi tempi sono difficili ed i nostri sono costretti a vivere in uno squat, le case occupate d'oltremanica, dove il destino ha preparato l'incontro con Alannah.
Le prime esibizioni hanno luogo nei pub,nelle università, nelle feste danzanti dei college, perfino in qualche dimenticabile competizione sportiva. Il primo album, Set, mai ristampato su cd, risale al 1982 e segna la loro entrata nella scuderia della Arista Rec. Il 1983 è l'anno della svolta: la band diventa un trio con la fuoruscita dei membri originari e l'impiego in pianta stabile di Alannah e Joe, che avevano avuto un ruolo minore da percussionisti e coristi nel debutto Set e che da questo momento saranno dei co-autori a tutti gli effetti (Joe sarà anche il responsabile dell'allestimento visuale delle performance dal vivo).
Esce il loro album Quick step and side kick, ed è il successo: ricordiamo soprattutto We are detective, un brano che omaggia giocosamente i detective Thompson che abbiamo ricordato all'inizio, Love on your side e la magica Lies, un brano caratterizzato dall'andamento orientaleggiante e trascinante, pur mantenendo un'atmosfera sottilmente inquietante tipica di tanta new wave dell'epoca.
Il 1984 è l'anno di singoli destinati a rimanere nella storia del Decennio come Doctor! Doctor!, You take me up, The gap e la indimenticabile Sister of Mercy, un brano dalla tessitura melodica emozionante ed impeccabile; a differenza di quanto spesso si è portati a credere.
Il   fortunato anno 1984 si chiude per i T. T. con l'uscita del singolo Lay your hands on me. L'album successivo è Here's to the future days, contenente la hit King for a day (ricorderete il divertentissimo video che rappresentava un'esibizione del trio davanti ai sosia dei più grandi personaggi dello spettacolo, che inneggiavano alla band e ne cantavano il brano a memoria da perfetti fans!) e l'inno contro l'uso di droga Don't mess with doctor Dream, oltre alla cover della beatlesiana Revolution. Purtroppo nel corso della lavorazione Tom Bailey è colpito da un esaurimento nervoso da superlavoro e ad ultimare l'opera viene chiamato Nile Rodgers. Pochi mesi dopo saranno tra gli headliner del live aid americano, con una esibizione che li vede affiancati dalla giovane star Madonna. Nel 1986 Joe Leeway lascia il gruppo; Tom e Alannah continueranno tra alterne vicende fino al 1993, ma la parabola dei gemelli Thompson è ormai discendente.
---
Reader's opinions
---