---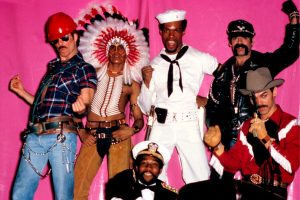 I Village People sono un gruppo musicale statunitense di disco music.Il loro nome, letteralmente la gente del villaggio, si riferisce probabilmente al Greenwich Village di New York, luogo frequentato da omosessuali.
Il gruppo fu fondato da Jacques Morali, un compositore francese, nel 1977. Aveva già composto alcune canzoni quando conobbe Victor Willis in uno studio di registrazione. Quest'ultimo accettò di cantare nel primo album Village People.
Fu un successo,e così Morali e il suo socio Henri Belolo decisero di costituire attorno a Willis un gruppo di disco music.
I componenti dei Village People andavano in scena vestiti da archetipi dell'immaginario Gay:
il poliziotto – ruolo ricoperto da Victor Edward Willis e, dopo il 1979, da Ray Simpson
l'operaio – David Hodo
l'indiano – Felipe Rose
il motociclista – ruolo ricoperto da Glenn Hughes nella formazione originale e, dopo il 1995, da Eric Anzalone
il soldato – Alex Briley
il cowboy – ruolo ricoperto da Randy Jones e, dopo il 1980, da Jeff Olson.
I maggiori successi arrivarono con Go West (che verrà ripresa in una cover dai Pet Shop Boys), In the Navy, Macho Man, e YMCA, canzone dedicata all'omonima Young Men's Christian Association, famosissima e diffusissima ancora oggi, immancabile nelle feste e negli eventi musicali organizzati dappertutto.
Complessivamente, tra album e singoli hanno venduto 85 milioni di copie, e sono diventati un'icona gay ed un fenomeno di costume.
Nel 1980 girano il film Can't stop the music diretto da Nancy Walker con Steve Guttenberg
Il gruppo ottenne la sua ultima hit nel 1981 con 5 O'Clock In The Morning, contenuta nell'album Renaissance, in cui per l'unica volta sperimentò un look completamente diverso dal suo solito, ottenendo però scarsissimi consensi.
---
Reader's opinions
---