---
Bananarama ~Un trio atomico~
Written by Angelo Moscara on October 28, 2023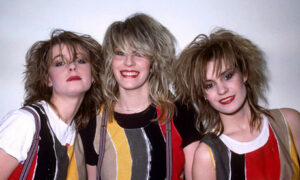 Questo nome molto simpatico, nasce dall'unione tra il titolo di un programma per bambini e una canzone – si formano nel 1981 a Londra. Il trio comprende Keren Woodward, Sarah Dallin e Siobhan Fahey, grande amica della Dallin al London College of Fashion. Dopo aver incominciato a cantare ai party degli amici e nei nightclub, le tre vengono notate dall'ex batterista dei Sex Pistols Paul Cook, che produce il primo singoli, la cover di "Aie a mwana".
Il successo, nonostante la pubblicazione di alcuni singoli, sembra però tardare ad arrivare. Finalmente, nel 1986 le cose cambiano: il trio incontra il team produttivo Stock, Aitken & Waterman, con cui realizzano l'album WOW!, il più grosso successo del gruppo, da cui viene tratta la hit "Venus". Altro brano di grande successo del trio è senz'altro "Cruel Summer". Nel 1984 fecero parte del super gruppo dei Band Aid e inoltre parteciparono alla nuova versione di "Do They Know It's Christmas? " nel 1989 diventando le uniche artiste ad aver partecipato ad entrambi i progetti.
L'anno successivo, dopo l'abbandono del progetto da parte della Fahey a seguito del suo matrimonio con Dave Stewart degli Eurythmics, la band subisce una brusca battuta d'arresto; ci vogliono quattro anni prima di riemergere con l'album POP LIFE; la Woodward e la Dallin, rimaste ancora in due dopo la defezione di Jacquie O'Sullivan che a sua volta ha sostituito la Fahey, pubblicano PLEASE YOURSELF (1992) e ULTRA VIOLET del 1995. Le Bananarama ritornano poi nel 2005 con DRAMA, ultimo lavoro in studio, a cui fanno seguito alcune raccolte come Greatest Hits And More More More, uscito nel 2007.
---