---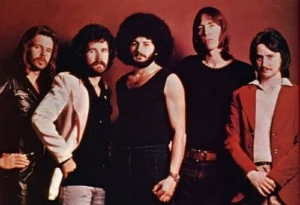 La storia dei Boston inizia quando Tom Scholz, laureato in ingegneria al MIT e product designer presso la Polaroid, oltre ad esibirsi in vari locali di Boston, inizia a registrare una serie di demo accompagnato dal chitarrista Barry Goudreau, dal batterista Jim Masdea (che già suonavano con Scholz in altra band), e dal cantante Ron Patti della band "Boston Cream". Questi demo erano l'embrione del primo album, con brani come More Than a Feeling, Gonna Hitch a Ride, Peace of Mind, Long Time e Rock and Roll Band. Scholz viveva con frustrazione le limitazioni della tecnologia del tempo e la relativa incapacità di catturare il suono cercato.
Così iniziò a ideare e costruire il proprio equipaggiamento. I primi nastri furono rifiutati dalle case discografiche. Un secondo set di registrazioni, con Scholz alla chitarra ed il nuovo cantante Brad Delp, catturò l'attenzione dei dirigenti della Epic Records, una divisione della CBS. Non erano però soddisfatti delle performance di Jim Mesdea e lo fecero sostituire con Sib Hashian ed ingaggiarono il bassista Fran Sheehan. Questi vantava una solida formazione presso il New England Conservatory of Music e prima di entrare a far parte dei Boston suonava in diversi gruppi locali assieme ad Hashian.
Quest'ultimo non aveva mai seguito studi musicali veri e propri, ma suonava la batteria fin dalle scuole elementari. La formazione era così costituita dal tecnico del suono, chitarrista e tastierista Tom Scholz, dal chitarrista Barry Goudreau, dal cantante Brad Delp, dal bassista Fran Sheehan e dal batterista Sib Hashian. Il cantante Brad Delp è stato trovato morto dalla Polizia il 9 marzo 2007 nella sua casa di Atkinson. Secondo il rapporto della polizia, la morte sarebbe avvenuta per intossicazione da monossido di carbonio. Il previsto Tour estivo, insieme ai REO Speedwagon è stato così annullato. Il 18 agosto 2007 si è svolto un concerto tributo per Brad Delp con vari artisti, dopo che Scholz ha cercato di organizzare "A Final Boston Concert". Per l'occasione anche Michael Sweet è salito sul palco con i Boston, e parteciperà al prossimo tour. È stato inoltre annunciato che è in corso la preparazione della versione rimasterizzata dell'album Greatest Hits, oltre ad un album con le migliori performance live. I Boston sono un celebre gruppo hard rock statunitense che, pur avendo inciso solo 5 album in studio, ha venduto moltissimi dischi. Il loro brano più famoso è More Than a Feeling del 1976. Famose le copertine degli album raffiguranti dei dischi volanti.
---