---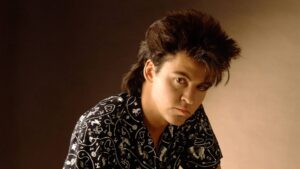 Paul è nato a Luton, in Inghilterra. Ha un fratello maggiore, Mark, e una sorella minore, Joanne. Finita la scuola, la Ashcroft High School di Luton, inizia a lavorare nella fabbrica della Vauxhall Motors e, nel tempo libero, suona il basso e la chitarra in diversi gruppi musicali. La primissima band di cui diventa il cantante solista sono i Kat Kool & The Kool Kats.
Negli anni settanta, entra nel gruppo Streetband, con cui ottiene un successo nella Top 20 britannica, con una traccia esilarante, intitolata Toast, che raggiunge il Numero 18 nel 1978.Nel dicembre del 1979, la Streetband si scioglie e Young forma i Q-Tips, che conquistano una certa fama come live band, ma non ottengono alcun successo di classifica nel Regno Unito, anche se il singolo Letter Song diventa un successo minore nell'Europa continentale.I Q-Tips si separano nel 1982 e Paul Young firma con la CBS come solista.
I suoi primi due singoli, Iron Out the Rough Spots ed un remake di Love of the Common People, non hanno successo, ma il terzo, una cover del classico di Marvin Gaye intitolato Wherever I Lay My Hat (That's My Home), diventa Numero 1 in Gran Bretagna, dove resta per tre settimane, nell'estate del 1983: sarà il primo di 14 singoli ad entrare nel Top 40 britannico.Simile successo ottiene l'artista in tutta Europa. Nella madrepatria, il secondo singolo, Come Back and Stay, raggiunge il Numero 4, mentre una ristampa di Love of the Common People arriva fino al Numero 2.
L'album di debutto, No Parlez, ottiene il disco di platino in diversi paesi. La tonalità di molti brani è caratterizzata, inoltre, da un uso esteso del falsetto, in particolare all'inizio della carriera solista, nel periodo 1983-1986, particolarità poi quasi del tutto perduta per un grave problema alle corde vocali.Young fu anche chitarrista e bassista, prima di iniziare la carriera solista nel 1983, ed ha collaborato con i gruppi musicali Kat Kool & The Kool Kats e Streetband. Ha inoltre fatto parte dei più noti Q-Tips, di cui è stato a lungo il cantante solista.Non va confuso con l'omonimo cantante Paul Young che, prima della sua morte, è stato un membro dei Sad Café e della seconda band del chitarrista e bassista dei Genesis Mike Rutherford, Mike and the Mechanics.
---
Reader's opinions
---