---
Billy Joel – Le celebrazioni per i 50 anni di carriera
Written by Roberto on August 29, 2021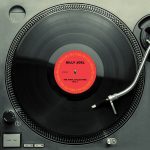 Columbia Records e Legacy Recordings, divisione catalogo di Sony Music Entertainment, pubblicano Billy Joel – The Vinyl Collection, Vol.1 il 5 novembre, dando il via alle celebrazione dei 50 anni di carriera del leggendario musicista.
The Vinyl Collection, Vol.1 arriva nei negozi lo stesso giorno del primo concerto (post-Covid) della straordinaria residency di Billy Joel al Madison Square Garden previsto per il 5 novembre.
Una raccolta definitiva di 9LP che racconta l'evoluzione di Billy Joel come cantautore, performer e artista durante la sua ascesa, dagli inizi sino a quando è diventato una superstar internazionale negli anni '70: The Vinyl Collection, Vol. 1 riunisce i primi sei album in studio da solista dell'artista (Cold Spring Harbor, Piano Man, Streetlife Serenade, Turnstiles, The Stranger, 52nd Street) ed il suo primo album dal vivo (Songs in the Attic) oltre alla pubblicazione esclusiva di Live at The Great American Music Hall – 1975, la registrazione inedita di un concerto disponibile per la prima volta come doppio album in vinile da 12″. Tutti i titoli sono stati masterizzati a partire dai nastri originali e lavorati da Ted Jensen allo Sterling Sound. Il cofanetto include anche un libretto di 50 pagine che racconta gli inizi della carriera di Billy attraverso foto d'archivio, un saggio di Anthony DeCurtis, le osservazioni e le intuizioni personali di Billy sulle sue canzoni ed i suoi album, oltre ai tributi dei suoi colleghi musicisti, artisti e celebrità.
The Vinyl Collection, Vol.1 offre sia ai fan di vecchia data che ai nuovi l'opportunità di vivere il fascino universale e senza tempo delle canzoni di Billy Joel, una discografia duratura di storie avvincenti raccontate attraverso il mezzo della musica pop, in cui melodie indimenticabili incontrano frasi ben interpretate e catturano la magia e la bellezza dell'essere vivi. La celebrazione del 50° anniversario della carriera di Billy parte con:
– Cold Spring Harbor, pubblicato per la prima volta il 1 novembre 1971: prende il nome da un luogo preferito situato a Long Island Sound vicino alla città natale di Billy e presenta al mondo Billy Joel, cantautore che – all'inizio di un nuovo decennio – stava scrivendo già gli standard della musica del futuro come "She's Got a Way" e "Everybody Loves You Now". L'album raggiunge le seguenti posizioni in classifica: negli Stati Uniti (#158), in Giappone (#44) e nel Regno Unito (#95).
– Piano Man, il secondo album in studio originariamente pubblicato il 9 novembre 1973, sulla base della title track – un'iconica signature song che entra nel mainstream pop – aiuta l'artista a salire dal canto lounge di Los Angeles al livello successivo della sua crescita come artista. Spinto da canzoni come "Piano Man", "Captain Jack" e "The Ballad of Billy the Kid", l'album diventa il primo US Top 40 di Billy (#27) e si classifica in Australia (#14), Canada (#26), Giappone (#112) e Regno Unito (#98). Piano Man viene certificato 4x Platinum dalla RIAA.
– Streetlife Serenade, il terzo album in studio di Billy Joel originariamente pubblicato l'11 ottobre 1974, segna la prima volta che Billy utilizza i sintetizzatori in un disco. Nei suoi spettacoli dal vivo spesso propone la strumentale "Root Beer Rag" e "Souvenir" come bis. L'album include "The Entertainer", una composizione chiave del repertorio di Billy. Streetlife Serenade entra in classifica in Australia (#85) e Canada (#16) e viene certificato disco di platino RIAA negli Stati Uniti.
– Pubblicato originariamente il 19 maggio 1976, Turnstiles, il quarto album in studio di Billy è una celebrazione del ritorno dell'artista a New York con brani che fanno direttamente riferimento all'amore per la sua città natale: "Summer, Highland Falls", "Miami 2017 (I've Seen the Lights Go Out on Broadway)" e il classico "New York State of Mind" (recentemente proposto da un cast stellare di musicisti, artisti e celebrità per un nuovo video musicale girato in tutti e cinque i distretti, realizzato a sostegno dell'organizzazione di volontariato #NYCNext). Turnstiles include "Say Goodbye to Hollywood", il tributo sonoro di Billy alle Ronettes, il gruppo femminile per eccellenza di New York. Raggiunge la posizione numero 22 negli Stati Uniti, la n.12 in Australia e in Giappone la n. 286, e viene certificato disco di platino dalla RIAA.
– Il quinto album in studio di Billy Joel, The Stranger, originariamente pubblicato il 29 settembre 1977, catapulta l'artista nella stratosfera della cultura pop. Il primo album di Billy Joel prodotto da Phil Ramone e il primo a catturare l'alchimia di Billy in studio con il suo ensemble itinerante, The Stranger viene registrato in sole tre settimane e genera ben quattro singoli di successo nella Top 40: "Just the Way You Are" (#3), "Movin' Out (Anthony' Song)" (#17), "She's Always a Woman" (#17) e il controverso "Only the Good Die Young" (# 24). L'album introduce i fan agli standard di repertorio tra cui "Vienna" e "Scenes from an Italian Restaurant." The Stranger raggiunge la posizione numero 2 della Billboard 200 mentre in Australia (#2), Canada (#2), Giappone (#3), Paesi Bassi (#36), Nuova Zelanda (#2) e Regno Unito (# 24). L'album ottiene lo status RIAA Diamond ed è stato recentemente certificato 11 volte disco di platino negli Stati Uniti. The Stranger ha fatto guadagnare a Billy Joel i suoi primi due Grammy Awards come Record of the Year e Song of the Year nel 1978. The Stranger è l'album più venduto di Billy fino ad oggi.
– Pubblicato originariamente l'11 ottobre 1978, 52nd Street, il sesto album in studio di Billy, è il suo primo disco a raggiungere la numero 1 della Billboard 200. Esplorando nuove direzioni musicali, Billy e il produttore Phil Ramone aggiungono musicisti jazz all'ensemble in studio e creano un album che genera tre singoli nella Top 40: "My Life" (#3), "Big Shot" (#14) e "Honesty" (#24). Vince due Grammy, tra cui Album of the Year e Miglior performance vocale pop, maschile. Uno dei primi album ad essere pubblicato nell'allora emergente formato compact disc, 52nd Street rende omaggio a uno dei centri della scena jazz di metà secolo a New York City, la favolosa 52nd Street, in cui l'album viene registrato (a un isolato di distanza dall'edificio della CBS). La RIAA certifica l'album 7x Platinum.
– Pubblicato originariamente nel settembre 1981 (celebra quest'anno il 40° anniversario), Songs in the Attic è il primo album dal vivo di Billy Joel, con performance di altissimo livello registrate in concerto del giugno-luglio 1980, curate appositamente per presentare ai nuovi fan i suoi primi anni e prima del fenomenale successo mainstream di The Stranger. Nei quasi dieci anni – e centinaia di concerti – da quando aveva debuttato, Billy Joel e il suo ensemble da tournée erano diventati una delle band dal vivo più compatte ed elettrizzanti del mondo. L'album raggiunge la posizione #8 della Billboard 200 mentre si posiziona in Australia (#9), Canada (#21), Giappone (#3), Nuova Zelanda (#30), Norvegia (#12), Svezia (#38) e Regno Unito (#57). Songs in the Attic viene certificato 3 volte platino dalla RIAA.
A completare The Vinyl Collection, Vol.1 è il doppio album bonus in vinile da 12 pollici inedito, Live at The Great American Music Hall-1975, registrato al The Great American Music Hall di San Francisco, nel giugno 1975. Il concerto dal vivo dello Streetlife Serenade tour introduce le prime registrazioni dei classici di Turnstiles "James" e "New York State Of Mind" e include le amorevoli cover di Billy di Joe Cocker, Elton John e Leon Russell, punto fermo dei suoi primi concerti.
Billy Joel – Live at The Great American Music Hall – 1975
Opening
Somewhere Along The Line
Roberta
The Mexican Connection
Root Beer Rag
James
Intro of Band Members
You're My Home
Cocker Imitation/You Are So Beautiful (Vamp/Fragment)
Everybody Loves You Now
New York State Of Mind
Benny & The Jets (Vamp/Fragment)
Travelin' Prayer
Delta Lady (Vamp/Fragment)
The Entertainer
The Ballad Of Billy The Kid
Ain't No Crime
Weekend Song
**Live at The Great American Music Hall -1975 è un'esclusiva del cofanetto e non sarà disponibile in digitale
Billy Joel – The Vinyl Collection, Vol.1 (9LPs in Slipcase with Booklet)
Cold Spring Harbor
Piano Man
Streetlife Serenade
Turnstiles
The Stranger
52nd Street
Songs in the Attic
Live at The Great American Music Hall – 1975 (2LP)
---
Reader's opinions
---