---
Blow Monkeys il "Pop Sofisticato "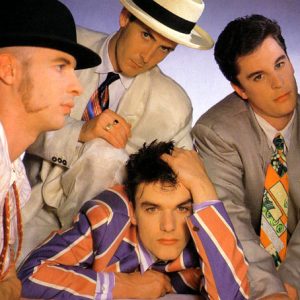 I Blow Monkeys si formano nel 1981; comprende il cantante/chitarrista Dr. Robert (Bruce Robert Howard), Tony Kiley alla batteria, il bassista Mick Anger e il sassofonista Neville Henry.
Nel 1984 il gruppo realizza il disco di debutto LIMPING FOR A GENERATION, anche se conoscono la popolarità con il brano "Digging Your Scene", dal loro secondo disco, ANIMAL MAGIC (1986). Nel gennaio 1987 esce il terzo lavoro SHE WAS ONLY A GROCER'S DAUGHTER, lavoro che entra nella Top 20 inglese grazie al singolo "It Doesn't Have To Be This Way", che anticipa anche un altro grande successo, "You Don't Own Me", inserito nella colonna sonora di "Dirty Dancing", conquistando il platino.
Il quarto lavoro è invece WHOOPS! THERE GOES THE NEIGHBOURHOOD (1989), a cui segue CHOICES- THE SINGLES COLLECTION, altro disco del 1989 che conquista il quinto posto in classifica. La band si scioglie alla fine del 1990, dopo l'uscita di SPRINGTIME FOR THE WORLD. Dr. Robert intraprende la carriera solista, dopo aver partecipato all'album di debutto di Paul Weller. A novembre 2007 i membri originali della band annunciano una reunion e l'anno successivo esce DEVIL'S TAVERN, mentre a giugno 2009 è la volta di TRAVEL'S SOUL, registrato presso il leggendario 100 Club di Londra, mentre nel 2011 arriva STARING AT THE SEA, settimo capitolo discografico del gruppo.
Inoltre proprio alla fine del 2007, i quattro membri originari dei Blow Monkeys si riuniscono, allo scopo di pubblicare un nuovo album e di effettuare una tournée durante il 2008. Nel frattempo, è uscita una nuova doppia raccolta, intitolata Digging Your Scene – The Best of The Blow Monkeys, che ripropone tutto il meglio del repertorio della band, tra singoli e tracce importanti, senza però nessun inedito, vista l'imminente uscita di nuovo materiale.
---
Reader's opinions
---