---
Fabrizio Poggi : L'Anima del Blues senza confini @ Il Flusso
Written by Administrator on December 15, 2013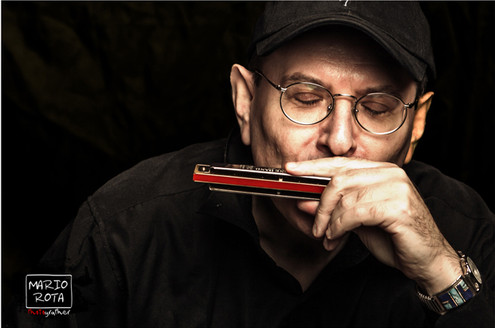 Lunedì 16 dicembre dalle 21 alle 23 . L'essenza del blues stesso, evocando l'antico stile dei suonatori di country-blues, a dimostrare che il blues non ha confini nazionali, lui è
FABRIZIO POGGI @ IL FLUSSO con Giovanna De Prezzo, la Jo

e, per la speciale occasione, con la partecipazione di Andrea Furlan e lo sguardo attento di Federico Sponza.
È l'armonicista italiano che ha incantato gli USA con le sue note quando, dietro alle parole ed alla musica, esistono delle storie, nuove e antiche, vere o leggende da raccontare.
Dall'incontro con il bluesman afroamericano Guy Davis, unanimemente considerato l'erede di Robert Johnson e John Lee Hooker, il suo viaggio nel suono e nelle parole ci conduce a "Juba Dance",il nuovo disco (settembre 2013), presentato in anteprima alla celebre BBC di Londra ed arrivato al PRIMO POSTO NELLA CLASSIFICA DEI DISCHI PIÙ TRASMESSI DALLE RADIO STATUNITENSI,nel quale Fabrizio appare sia come musicista che come produttore artistico. Il disco è candidato ai Blues Music Award 2014, gli OSCAR DEL BLUES. Alla pubblicazione segue un tour di presentazione nel continente americano.
Fabrizio Poggi, cantante e armonicista, viaggiatore, scrittore e giornalista, premio Oscar Hohner Harmonicas per lo "straordinario impegno nella diffusione dell'armonica blues" attraverso la sua musica e i suoi libri, 17 album incisi, di cui cinque registrati negli Stati Uniti, ha suonato con tanti grandi del blues, del rock e della canzone d'autore tra cui Garth Hudson di The Band e Bob Dylan, The Blind Boys of Alabama, Marcia Ball, Jerry Jeff Walker, Zachary Richard, Flaco Jimenez, Charlie Musselwhite, John Hammond, Little Feat, Eric Bibb, Guy Davis (con il quale ha inciso "Juba Dance"), Steve Cropper, The Blues Brothers Band, Richard Thompson, Billy Joe Shaver, Augie Meyers, Ponty Bone, Otis Taylor e tanti altri grandi artisti.
Fabrizio Poggi è stato tra i primi a fare lunghi tour nel continente americano dove ha suonato con enorme successo nei più leggendari blues club di Texas, Louisiana e Mississippi.
Intorno al 1990 Fabrizio Poggi fonda i CHICKEN MAMBO, blues band con influenze zydeco, la musica nera della Louisiana e con una grande passione per i cantautori roots texani. Il nome del gruppo viene scelto quasi per caso per la sua musicalità ed è tratto da una canzone del mitico Howlin' Wolf.
La sua inconfondibile armonica si può ascoltare anche dalle radio di tutto il mondo e in tante sigle e programmi televisivi italiani, nonché in parecchie incisioni per artisti nostrani tra i quali spicca senz'altro la figura di Enrico Ruggeri. In Italia Fabrizio, ha inoltre suonato con Eugenio Finardi, Gang, Luigi Grechi De Gregori, e tanti altri. E' stato spesso ospite di trasmissioni radiofoniche e televisive sui canali Rai e Mediaset.
'Un viaggio nel suono e nelle parole' dentro l'anima blues della sua armonica, in diretta con LIVE acustico ai microfoni di Radio Punto
FABRIZIO POGGI @ IL FLUSSO con Giovanna De Prezzo, la Jo
Vi aspettiamo!
Il viaggio continua..
Stay tuned
by Giovanna De Prezzo, la Jo.
Diretta streaming: www.radiopunto.it clicca su 'Ascolta Ora'
FM 88.15 – 89.1 – 88.8 – 101 MHz
Facebook: IL Flusso-Radio Punto.it
---
Reader's opinions
---