---
Oasis leggendari ed irrequieti
Written by Angelo Moscara on February 26, 2023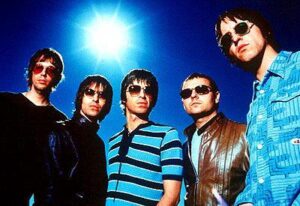 Gli artisti che nella storia della musica sono riusciti a rappresentare una generazione sono più di una manciata e gli Oasis sono sicuramente tra questi. Dalla realizzazione di Definity Maybe nel 1994 allo straordinario concerto a Knabworth del 1996, il gruppo è riuscito a interpretare e testimoniare la realtà giovanile britannica. Sia Noel che Liam si sono costruiti una famiglia, ma questo non ha impedito loro di continuare a girare il mondo in tour.
Nelle ultime tappe in Inghilterra hanno totalizzato 133.000 presenze facendo il tutto esaurito nella maggioranza della città. Portavoce della chemical generation, la band si è sempre dimostrata ribelle, soprattutto nei confronti della stampa. Gli Oasis sono stati fra i pochi a non aver parlato del futuro denigrando il passato.
Nella loro musica sono chiari i tributi ai Beatles, ai Sex Pistols e agli Stone Roses, le tre decadi di rock che li hanno preceduti. In fondo gli Oasis sono sempre stati sulle spalle dei giganti e per questo sono emersi tra i loro pari. Dal 1993 al 1997 il gruppo ha operato una scelta musicale precisa e ha intenzionalmente allontanato chiunque non fosse in grado di accettarla. Sono stati anni frenetici, a base di feste, droga e di alcol.
Poi improvvisamente qualcosa è cambiato, il divertimento si è esaurito e quel tipo di vita è divenuta priva di fascino e di qualsiasi stimolo. Sia Noel che Liam però non rinnegano il passato, quegli anni hanno lasciato un vuoto da colmare. É così che si approda a Standing on the shoulder of giants, ultimo albumo degli Oasis.
Per la prima volta la band ha lavorato con il mago dello studio Mark Spike Stent, noto per le produzioni di U2, Bjork, Massive Attack e la collaborazione è stata particolarmente produttiva. Nessuno prima era riuscito ad entrare così in sintonia con lo spirito della band, riproducendo suoni dance e inserendoli perfettamente nel disco, riuscendo oltretutto a contenere gli eccessi musicali di Noel.
L'album è stato registrato in Francia, poi, con la separazione di due membri della band (Paul Arthurs e Paul McGuigan) rielaborato in Inghilterra. La nuova formazione aggiunge ai fratelli Gallagher, il chitarrista ritmico Gem e il bassista Andy Bell, che non hanno fatto rimpiangere i loro predecessori, vista la migliore qualità del suono da loro prodotta.
---
Reader's opinions
---