---
Chaka Khan – La regina del Funk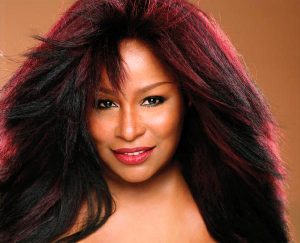 Yvette Marie Stevens è il vero nome di Chaka Khan, nasce il 23 marzo 1953 a Great Lakes, Illinois. Forma il suo primo gruppo, le Crystalettes e a undici anni; nel 1969, dopo aver adottato il suo nome d'arte, lascia la scuola e entra a far parte di alcune band, senza troppo successo. Le cose cambiano quando incontra Kevin Murphy e André Fisher, con cui forma i Rufus.
Il gruppo, che debutta nel 1973, riesce a conquistare una dozzina di dischi d'oro e di platino prima che la Khan intraprenda la carriera solista nel 1978. L'anno successivo esce infatti "Chaka", album che contiene il grande successo "I'm Every Woman" (poi riportato in auge una decina di anni dopo da Whitney Houston); nel 1980 esce "Naughty", seguito da "What Cha' Gonna Do For Me" del 1981. Dopo "Echoes Off An Era" (1982), nel 1984 è la volta di "I Feel For You", lavoro che riceve grandissimi riconoscimenti, tra cui il Grammy.
Nel 1986 è la volta di "Destiny", seguito a due anni di distanza da C.K. Nel 1990 la Khan vince un altro Grammy con "I'll Be Good To You", duetto in coppia con Ray Charles. "COME 2 My House" esce invece nel 1998; nel 2004 l'artista conquista il terzo Grammy per l'interpretazione assieme, ai Funk Brothers, di "What's Going On" di Marvin Gaye. Continua negli anni a esibirsi in tour, realizzando poi nel 2007 "Funk This", disco di originali e cover., "American Legend", invece viene pubblicato nel novembre 2008.
---
Reader's opinions
---