---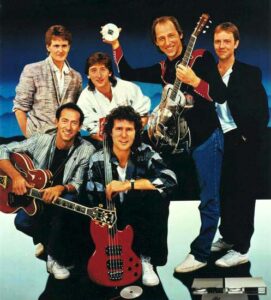 I Dire Straits si formano sul finire degli anni '70 e sono Mark Knopfler (voce e chitarra), suo fratello David (alla chitarra), John Illsey (basso) e Pick Withers (batteria). Di tutte le nuove band che si muovono nel circuito dei pub e club londinesi, sembrano essere troppo diversi dal panorama musicale del periodo per poter sopravvivere.
Circondati dai rabbiosi fuochi del punk, non nascondono il loro amore per generi musicali come il country e il blues, non strillano e non sono affatto arrabbiati. Il loro primo album, "Dire Straits", registrato quasi a costo zero e senza quasi una promozione, diventa un successo clamoroso nel 1978 e porta il gruppo in tour in giro per il mondo.
Il loro album successivo, "Communiqué" conferma lo stato di grazia della band, mentre con "Making Movies" (1980) arriva l'esplosione del fenomeno musicale legato al gruppo: un album superbo, ben prodotto, che afferma tutta la classe e la caratura tecnica di Knopfler alla chitarra. Non funziona altrettanto il successivo "Love Over Gold" (1982): album forse troppo barocco con brani lunghi, introduzioni e code interminabili.
Nel 1985 il gruppo torna con "Brothers In Arms" momento di felice fusione tra un repertorio rockabilly e country tipicamente statunitense e la poetica più tipicamente anglo-celtica. Singoli come"Walk of life", "So far away"e soprattutto "Money for nothing" trascinano i Dire Straits in vetta alle classifiche, portando il gruppo a suonare in circa duecento date come supporto all'album. Si tratta del preludio a una lunghissima pausa nell'attività della band, composto operativamente ormai dal solo Knopfler. "On Every Street", l'album del ritorno che purtroppo tradisce le aspettative, è del 1991, e resta ancora oggi l'ultima prova di studio della band, che nel 1998 pubblica il greatest hits "Sultans Of Swing – The Best Of Dire Straits". L'ultima raccolta, la più recente, è del 2005: "The Best Of Dire Straits" & Mark Knopfler: "Private Investigations", realizzato in due edizioni con CD singolo e doppio. Nel 2009 esce invece un nuovo disco dal vivo, "Sultans Of Swing: Live In Germany".
---