---
Prefab Sprout ~Pop Rock sofisticato
Written by Angelo Moscara on August 25, 2023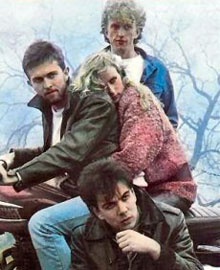 I Prefab Sprout sono un geniale gruppo britannico formatosi nel 1982. Il nome del gruppo si può tradurre in italiano come "germoglio prefabbricato". Stando a quanto riportato sul "Brish Hits Singles & Albums " esso deriva da un verso di una canzone di Nancy Sinatra e Lee Haziewood intitolata Jackson, che diceva «We got married in a fever, hotter than a pepper sprout», le cui parole finali vennero tramutate in "prefab sprout".
L'album capolavoro del gruppo è senza dubbio " Stevie McaQueen", uscito negli Stati Uniti col titolo "Two Whells Good" a causa del veto degli eredi dell'attore, venne registrato nell'autunno del 1984 ai Nomis Studios di Londra in cinque settimane ed uscì il 22 giugno 1985. Encomiato dai critici, permise ai Prefab Sprout di piazzare il loro primo singolo, "When Love Breaks Down" nelle classifiche britanniche, prodotto l'anno prima da Phil Thornalley bassista  dei "Cure"; altri singoli di successo furono "Appetite" che arrivò al 35º posto nelle classifiche italiane e valse al gruppo una partecipazione al Festival di Sanremo 1986 come ospiti internazionali, e "Johnny Johnny" (presente sull'album col titolo " Goodbye Lucille" , Steve McQueen col tempo è stato considerato non solo il capolavoro dei Prefab Sprout  ma soprattutto uno dei gioielli del pop anglosassone degli anni ottanta.Paul McCartney gli confessò che avrebbe voluto scrivere "When Love Breaks Down".
L'anno seguente il gruppo incise l'album "Protest Songs" (che però la casa discografica ritirerà e farà uscire nel 1989) e prese parte al Red Wedge Tour insieme a Tom Robinson e agli Smiths; il lavoro successivo fu invece "From Langley Park to Memphis " , del 1988, che arrivò al quinto posto nelle classifiche britanniche e regalò alla band il suo più grande successo commerciale nel Regno Unito, il singolo " The King of Rock' n'Roll" . All'album, prodotto solo in parte da Thomas Dolby, parteciparono ospiti come Stevie Wonder e Pete Townshend degli Who,e fu seguito da un lungo tour promozionale.
Nel 2006 a McAloon fu diagnosticatoa la malattia di Menière una  patologia dell'udito molto invalidante, che rese alquanto difficoltoso il proseguimento della sua carriera ed impossibile qualsiasi esibizione dal vivo; nonostante i problemi di salute, l'artista continuò a lavorare dalla sua casa di Durham e realizzò nel 2009 l'album "Let's Change the World with Music" una raccolta di demo incisi all'inizio degli anni novanta, recensito positivamente dalla critica britannica.
---