---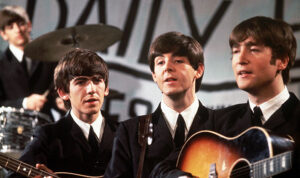 John Lennon, Paul McCartney, George Harrison, Stuart Sutcliffe e Pete Best suonano insieme con il nome di Silver Beatles nel 1960 a Liverpool, GB. Nell'estate di quell'anno si esibiscono ad Amburgo, in Germania, e nel 1961 incidono il primo 45 giri come gruppo d'accompagnamento del cantante Tony Sheridan.
Dopo un cambio di formazione il gruppo pubblica un primo 45 giri, 'Love me do', e un secondo, 'Please please me', che balza in testa alle classifiche, dando il via ad un successo senza precedenti. Le tappe fondamentali del gruppo sono scandite da eventi clamorosi, come l'invasione degli Stati Uniti nel 1964, due film come 'A hard day's night' e 'Help!', l'onorificenza di Baronetti consegnata al gruppo dalla Regina Elisabetta, la crociata contro il gruppo intrapresa negli Stati Uniti dopo che Lennon, nel 1966, disse la frase 'Siamo più famosi di Gesù Cristo'.
E ancora la morte misteriosa di Brian Epstein nel 1967 che segna l'inizio di una veloce parabola discendente per la macchina industriale rappresentata dal gruppo fino a quel momento, il fidanzamento tra John Lennon e Yoko Ono, ulteriore elemento destabilizzante nelle sempre più delicate alchimie del quartetto, l'ultimo concerto sul tetto della Apple, la loro casa discografica, a sancire una ormai inevitabile separazione, che arriva nell'aprile del 1970, e da quel momento, le periodiche voci di una clamorosa reunion, uccise per sempre nell'atrio del Residence Dakota a New York, dove l'8 dicembre 1980 Mark Chapman spara a John Lennon colpendolo a morte. E' solo nel 1996 che i Beatles tornano insieme in sala di registrazione per lavorare ad un documentario special sulla loro storia e a tre doppi compact antologici comprendenti inediti e alternate versions dei loro classici, compresi due brani inediti di Lennon che loro completano suonandoci sopra le proprie parti.
Dal punto di vista discografico il gruppo lascia 13 album di canzoni inedite appartenenti a diversi periodi della propria parabola artistica: 'Please please me','With the Beatles','A hard day's night','Beatles for sale' e 'Help!','Rubber soul','Revolver','Sgt. Pepper's lonely hearts club band','Magical mistery tour','The Beatles' (altrimenti detto 'The white album'),'Yellow submarine','Abbey road' e 'Let it be'. Innumerevoli le raccolte, imperdibile il live 'At the Hollywood Bowl' e tutti i bootleg. Un gruppo senza precedenti, e senza successori.
---