---
Peter Frampton -Colui che faceva cantare la chitarra-
Written by Angelo Moscara on August 19, 2022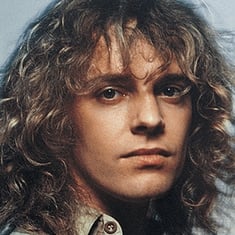 Peter Frampton, nato come Peter Kenneth Frampton, è un musicista americano-americano noto per la sua genialità nel genere rock. È anche un cantautore, un cantante, un chitarrista e un produttore. Frampton è un ex membro del gruppo rock inglese "Humble Pie" e del gruppo pop-rock "The Herd". Si è unito a "The Herd" come chitarrista e cantante solista alla giovane età di sedici anni e in seguito ha lasciato la band per unirsi a "Humble Pie" quando aveva appena diciotto anni. Il chitarrista vincitore del Grammy Award ha anche lavorato come musicista solista e ha venduto milioni di copie negli Stati Uniti. Senza dubbio genio musicale, grande polistrumentista.
I suoi album e singoli di successo sono stati presentati più volte nelle classifiche musicali popolari. Il suo album internazionale "Frampton Comes Alive!", Che era anche il suo album live più venduto, ha venduto oltre otto milioni di copie solo negli Stati Uniti. Dopo il successo di questo album, ha continuato a pubblicare molti altri album importanti che gli hanno fatto guadagnare immensa popolarità e riconoscimento tra il pubblico.
Peter Frampton è nato a Bromley, nel Kent, il 22 aprile 1950 in una famiglia della classe media. Iniziò a suonare all'età di 7 anni, entrò in un gruppo a 12 anni.
Nel 1976, Peter Frampton pubblicò il suo album live più venduto, "Frampton Comes Alive!" Che conteneva successi popolari come "Show Me the Way", "Do You Feel Like We Do" e "Baby, I Love Your Way". Questo album aveva due nuovi membri, Bob Mayo alla tastiera e chitarra ritmica e Stanley Sheldon al basso. L'album è stato un grande successo, rimanendo sulla Billboard 200 per 97 settimane.
A causa dell'enorme successo del precedente album, il suo prossimo album "I'm in You" ha faticato a far fronte alle aspettative. Questo è stato l'inizio di una battuta d'arresto che ha ostacolato la sua carriera per il prossimo mezzo decennio. I prossimi album "Where I Should Be", "Rise Up" e "Breaking All the Rules" non sono andati bene.
Durante gli anni '80 e l'inizio degli anni '90, Peter Frampton ha continuato a registrare, ma non ha ricevuto i premi che sperava. Nel 2006, ha pubblicato il suo album strumentale "Fingerprints", che gli è valso il Grammy Award per il "Best Pop Instrumental Album" nel 2007. Dopo aver registrato numerosi album con vari artisti e pubblicato diversi album da solista di successo, Peter ha pubblicato il suo primo strumentale intitolato "Impronte digitali" nel 2006. Questo è diventato estremamente popolare e gli è valso molti elogi dalla critica. Ha anche vinto il Grammy Award come "Miglior album strumentale pop" nel 2007. Peter Frampton ricevette una stella sulla Hollywood Walk of Fame il 24 agosto 1979.
Particolarità rimasta famosa dell'artista é l'uso del "Talbox" in grado di modulare il suono della chitarra attraverso i cambiamenti di forma della propria bocca. Difatti il "Talkbox " è sinonimo di Peter Frampton.
---
Reader's opinions
---