---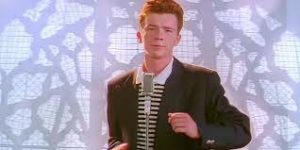 Richard Paul Astley (Newton-le-Willows, 6 febbraio 1966, Lancashire Inghilterra) è un cantante, cantautore e musicista inglese.
Nonostante la sua immagine da ragazzino, Astley era dotato di una voce calda che lo rende immediatamente riconoscibile. Scoperto artisticamente e prodotto dal trio Stock, Aitken & Waterman realizza, sotto la loro influenza, i suoi primi due album, composti da brani pop dance freschi e orecchiabili.
L'esordio avviene nel 1987 con il brano Never Gonna Give You Up, e a seguire altri fortunati singoli. Ma la formula delle produzioni del "Trio" è piuttosto ripetitiva, e comincia a mostrare la corda. Per questo Astley all'inizio del nuovo decennio, cambia team di lavoro e la sua musica si fa a detta di alcuni più matura; questo comporterà però, anche un minore appoggio da parte del pubblico.
Il singolo di lancio del suo terzo album s'intitola Cry For Help, ed è un'intensa soul ballad con forti influenze gospel; mentre il successivo, Move Right Out, è decisamente più carico, e ritmato.
Dopo una pausa di un paio d'anni, Astley si ripresenta sul mercato con un nuovo album, Body and Soul, preceduto dal singolo The Ones You Love. Nonostante l'impegno nel proporre un repertorio più consono al suo timbro vocale, e perciò un pop rivolto a un pubblico più adulto, il disco non ottiene il successo sperato.
Ormai i tempi d'oro per lui sembrano essere finiti, e si limita a realizzare ancora un paio di albums distribuiti a malapena al di fuori della natia Inghilterra. L'avversione per gli aerei contribuisce a isolarlo ancora di più, e allora si dedica alla sua vita privata accompagnandosi con una ragazza di origine danese. Insieme avranno una figlia.
Nel novembre del 2008 riceve il premio come Best Act Ever al MTV Europe Music Awards.
Le vendite complessive dei suoi dischi, tra singoli e album, si aggirano sui 40 milioni di copie.
Si ritira dal mondo della musica il 3 aprile 2010 per dedicare più tempo alla sua famiglia. Non ha comunque definito l'addio "definitivo" ma solamente "provvisorio".
---
Reader's opinions
---